Life Is Too Short To Clean Your Own Place
You've got things to do that are more important than cleaning or organizing your house or bussiness.
I have best services for you
(978)421-7935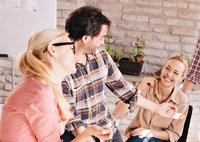 Hi, I'm Suelen. My clients and friends call me their secret weapon and I am here to help you get your home and your life cleaned and organized so you can have more time for what matters most to you.
I have more than 10 years of experience providing high quality residential and commercial cleaning and organization services.
I am very patient to do it right and thoroughly. We take great pride in our attention to health and safety.
Transformation Through Organization

Over the years I learned that organizing goes far beyond beatiful containers and perfectly lined items on a shelf. I learned that organizing is a powerful tool for personal transformation, that it brings a higher quality of life, creates a more peaceful household and allows for more harmonious family relationships. And for these reasons, I am thrilled that you are here. I am excited you chose to get started on your organizing journey.

HOUSE CLEANING
*Deep cleaning
*Weekly, Bi-weeky and Monthly options
*Move in and move out
*Spring an Fall Cleaning
*Post Construction
*Carpet shampooing
*Windows Cleaning
ORGANIZING
*Kitchen and Pantry Organization
*Bedroom Organization
*Closet Organization
*Paper Organization
*Garage Organization
*Basement and Attic Organization
COMMERCIAL CLEANING
*Offices and showrooms

*Condo

*Retail stores

*Schools

*Design studios and galleries

*Restaurants
Helena D.
New York-NY
"I tell everyone to this day that you are the best housekeeper ever"
Parthavi P.
Groton-MA
"So far my experience is really good. Suelen is very detailed oriented and hard working person."

Jeff L
Chelmsford-MA
"Suelen was great and cleaned my house better than it's ever been cleaned. I'm very happy. Thanks again for such a nice job!!!"

Nicole R.
Boston-MA
"Suelen has been wonderful! I hired her full time!"

Harry K.
Chelmsford-MA
"Very pleasant and hard working. Expectations exceeded"
Collen P
Haverhill-MA
"Absolutely amazing. Great communication. Arrived on time as promissed"
Krista W
Littleton-MA
"I was SO very happy with Suelen's work. She made my stainless steel appliances glow like they were new again. I had recently had three kids over for crafts and there was glitter everywhere. I have yet to find a speck of glitter since Suelen left! Very happy... and planning on setting up reoccurring work with her!"